IEB@ Amado's SF, Saturday November 9th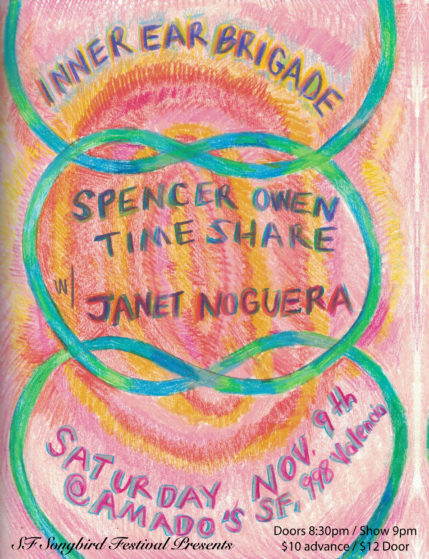 https://www.facebook.com/events/521478718653438/
Doors 8:30pm / Show 9pm
$10 advance / $12 Door
21+
INNER EAR BRIGADE (IEB) is an ensemble of musicians based in the San Francisco Bay Area who play a unique mix of progressive rock, jazz, and experimental pop, all delivered through their originally detailed compositions and arrangements. They recently released their 2nd full length album Dromology. The music is fun, happy, accessible, and proggy. Steeped with a vintage analog sensibility, effects processing, and synthesizers, IEB crafts their sounds from RIO elements (Rock In Opposition), Canterbury (Sound), and Zappa.
SPENCER OWEN TIMESHARE [Oakland] is tight, and their shows are surprising, fulfilling, and not, in any respect, to be missed. Their new album, PRESENTATION, traps memories of this live outfit in multi-tracked audio, communicating dryly yet joyously from alternating perspectives — between ironic distance (Stereolab, Talking Heads) and soulful sincerity (Prince, Van Morrison).
JANET NOGUERA is an exciting young Mexican-American guitarist and composer. In 2014, she was featured in the Acoustic Guitar Magazine May 2014 issue, as one of the "30 Great Acoustic Guitarists under the age of 30." Janet has opened shows for players like Andy McKee, Andrew York, and Laurance Juber. She currently performs around Northern California and is currently teaching Music and Spanish at the San Francisco Day School, as well as at Instituto CanZion, a Hispanic Institute of Christian music in Newark, and most recently, teaching guitar at Mission Cultural Center of Latino Arts, MCCLA in San Francisco.